Just a quick update
I've been working on the Quidditch Sweater. Almost finished with the sleeve, then pick-up for the second sleeve, do the neckline, block and sew the patch on. Yeah, if I'm lucky and the weather stays so changable I may even get to wear it before having to pack sweaters away for the season!
In lieu of some knitting pics today (my computer and I aren't on speaking terms at the moment) I thought I'd post a couple of pictures from my visit to my father's farm this past weekend. He only had the boys there but they are quite cute and funny.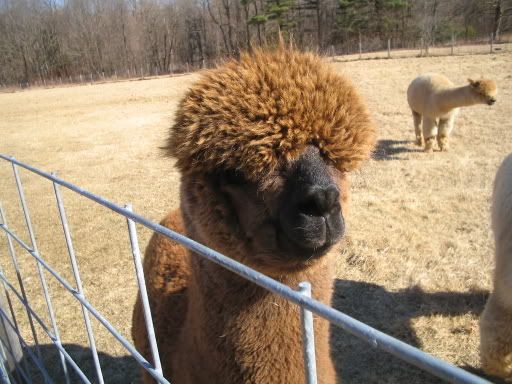 Now, isn't this just the most adorable face? This handsome fellow is Espresso. He was the most inquisitive of the bunch. And, for a size reference, that fence is 4-feet tall. I always expect them to be bigger than they are.
Here are Cappuccino and Maxwell. Max is the oldest of the boys but that doesn't mean he is accorded the respect he thinks he deserves!
The fourth male was Bailey but he wouldn't come near enough for me to get a good picture of him. He looks a lot like Cappuccino but darker, like the wonderful elixir he is named for. :) You can see him hanging out behind Espresso.
There will be yarn coming in in the next month or so and I am saving my pennies to purchase some. I felt a skein left over from the last batch he had spun up and I could have petted it all day. I really think I need some.