la-dee-da-dee-da
What a bad little member of Blogland I've been.
I've been a busy knitter, though. The Quidditch Sweater has one sleeve and I've picked up for the second one. The only drawback of working the sleeves top-down though is that the whole thing flops around in your lap.
I also made another Babe. This one was for my cousin's little girl. I finished the arms and legs while watching a St. Patrick's Day parade last Sunday. As the floats and bands went by I busily knit appendages with my US2 needles. I'll have to ask her to take a picture for me so I can upload it. I am much happier with how this one came out- knit in the round instead of seamed.
Now I'm working on some clothes for the poor little dear. I cast on for a raglan sweater and worked out a pattern for a cardigan. I'll make a few skirts or spring dresses to go under them and everyone will be happy.
Speaking of cardigans, I decided that I need a warm weather one for me. It's a few months off, but once the air conditioner comes on I'll want something to go around my shoulders. I have 6 skeins of Cotton Ease in Candy Blue that I managed to score a while back. By my estimates, I should be able to make a three quarter-sleeved sweater. I also want to do a pattern on the front panels and maybe down the sleeve. I'll play around with that this weekend. Much as I hate swatching I really think it best for this.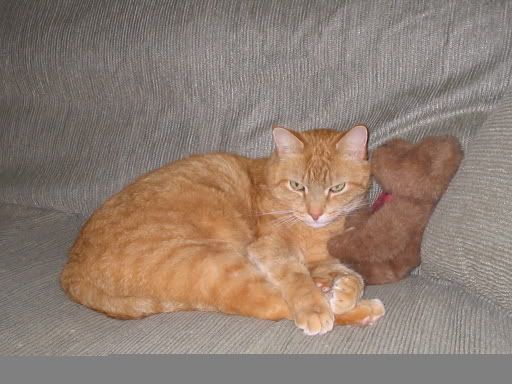 And, because he's become rather enamoured of his celebrity, and I couldn't resist the shot, I'll leave you with a picture of Blaze. This was a Boyd's Bear that was given to me for Christmas. I came in, placed it on the couch, went to hang my jacket up and the Lord and Master of the house claimed it while my back was turned. Since then, it stays on the couch and Blaze cuddles with it almost every day.