Poncho goodness
Sorry I didn't get the photo posted last night. I got busy with Fan Stitch and didn't end up doing my blocking until later. So, here she is, in all her glory. Well, in my living room, anyway.
As I said, I will now be concentrating on Fan Stitch. I'm not including any pictures of that because it doesn't look like anything. Especially with the dark yarn it's hard to photograph it in progress.
I am thinking about doing a deeper edging than what I had already picked. That is 10 stitches deep with a 4-row repeat. If anyone knows of an edging that would look nice on a half-circle shawl with a fan stitch pattern, please let me know. Oh, and the shawl is in garter so I think the edging should be, too. Appreciate it.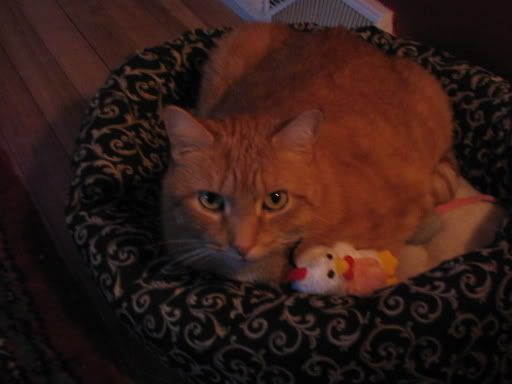 The weather has become much more like winter here. What a strange week- a blizzard last Sunday, temps in the 50s during the week and back to freezing this weekend. With a bit of wind thrown in for good measure yesterday. That being the case, Blaze has chosen to cuddle up where it is warm, either on my bed with his Piggy or in his bed. Doesn't he look cute?